-- [EDIT]: Latest version of Green Lantern G'nort costume is here --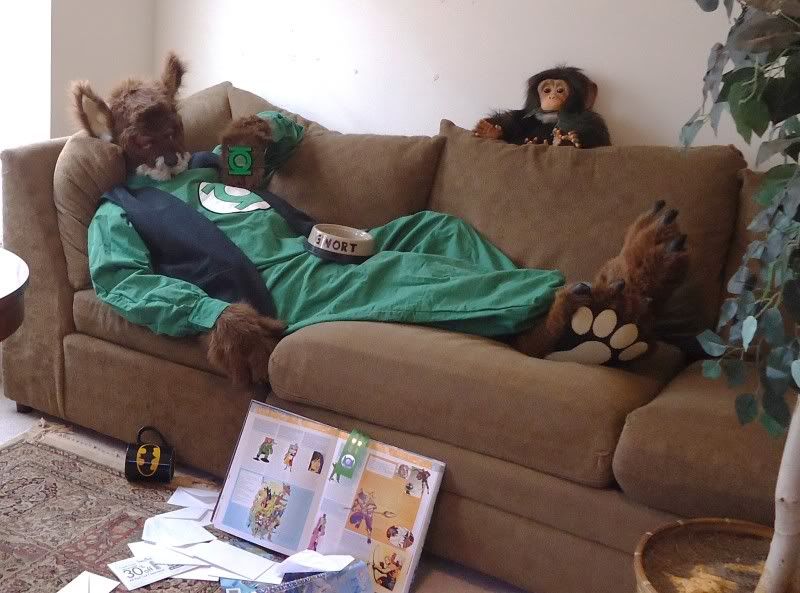 HANDY THREAD BOOKMARKS:

Shopping list of materials for this costume:
Post #14
(page 2)
Inventory of my G'nort collection (comics, figures):
Post #60
(page 6)
The following are the successive posts leading up to this photo.
====================================================
Once again, I make no promises... but I am going to collect and share my thoughts regarding making a
G'nort
(
Esplanade G'neesmacher
) costume for Dragon*Con 2011. Whether or not I actually make this into a costume is another matter, but I have to start somewhere.
There are so many costumes I would rather make, but I am finding it hard to resist the temptation that is inherent in this comical character.
A dog.
That means a hundred pee gags (I know at some point I will have to hump someone's leg...). I envision freezing - like dogs do - when they anticipate something exciting may happen, and then bolting after the fake-tossed stick or whatever. And if there is someone in a Squirrel Girl costume... oh boy. I can make an uber-realistic dog bark noise, so I already know that's how it will sound when G'nort coughs, sneezes, hiccups and/or burps.
I got a million of 'em.
Green dog biscuits....
With Will (aka Wangin8r - my son), Chris Visser, Damon and TentacleChris (among others?) as potential Guy Gardners, this means I can be a canon pain-in-the-ass.
Catman, beware.


I will now start keeping my eyes open for a dog leash made out of clear green plastic tubing. Unfortunately, I might attract unwanted attention from the Furry crowd -- but any costume has its own inherent risks, right?
-----
Here we go --

The costume (in my mind) has the following components:
(1)
Head [DONE]
. Yes, this will be the most difficult part. Actually, this is really the
ONLY
difficult part of this entire costume. There are several ways to go about this, but the most impressive would be to make a full-size (
over
-size) mascot-type dog head. I have seen an amazing dog "Furry" costume that I cannot shake from my mind in regards to this costume. This is the way I want to go, although a lesser approach (i.e., elaborate custom full-head pull-over mask) will be easier, and within my previous experience. I must muse over this...
(2)
Green Lantern body costume: Jumpsuit [DONE] and Vest [DONE]
. This is going to be the easy part.
Super-
easy. A full-length loose-fitting green coverall with cuffed-up neck cowl, gathered-cuff wrists and ankles, sporting a large GL logo on the chest. And a black vest. Really,
could they have made this outfit any easier?
A vest means pockets, so this solves camera, cell phone and ID concerns.
(3)
Paws (hands [DONE] and feet)
. No problem whatsoever. The hands will essentially be large oven mitts (with three fingers + thumb) made from fake fur. The feet need to be large shoe covers, with the only complication of determining the best way to attach to slip-on shoes worn inside -- which will be easy to work out when I get to this point.
(4)
Tail
. This is actually part of the body costume (2) but I need to put some thought into how it will be constructed. Should I add mechanics that make it wag? But with these attached to my waist/ass, how will I sit down?
(5)
Ring [DONE x2]
. I have put great thought into this. G'nort doesn't have a ring, so much as a band he grips in his paw. The approach I am thinking of taking is to make a green vinyl hand-strap (this will be made to resemble a dog collar) and attach to that a large light-up resin GL Emblem. Keeping the "strap" flexible and eschewing resin (for example) reduces the potential for breakage, and I can make this appear very close to G'nort's canon ring. I may enlist Shane's assistance in making a GL Emblem similar in size to Kilowog's, if casting an emblem of this size (and making it light up) turns out to be beyond my own skill set.
Without any doubt, it helps that I have in my collection several comic issues in which G'nort appeared, as I plan to follow these closely in creating this costume
(oops -- it sounds like I am serious).
However, I feel strongly that I should try to bone up (pun intended) on G'nort's various storylines and various artist interpretations to (1) come up with funny stuff to incorporate in the costume and (2) round out my knowledge of the character's exploits. I also need to find "The Eyes of Despero" episode from the animated series
Batman: The Brave and the Bold.