GREEN LANTERN #1
Written by GEOFF JOHNS
Art by DOUG MAHNKE and CHRISTIAN ALAMY
Cover by IVAN REIS and JOE PRADO
Variant cover by GREG CAPULLO
On sale SEPTEMBER 14 • 32 pg, FC, $2.99 US • RATED T
Retailers: This issue will ship with two covers. Please see the order form for more information.
The red-hot GREEN LANTERN team of writer Geoff Johns and artist Doug Mahnke introduce an unexpected new Lantern.

And that Lantern? Take a look at the cover: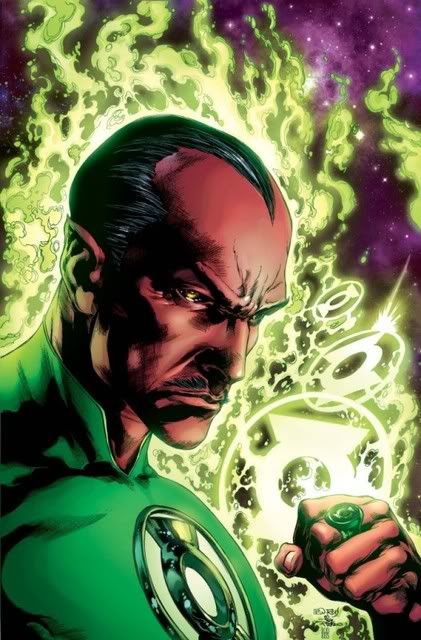 And, given the solicit and cover for #2, this looks like the way things will be for a while:
GREEN LANTERN #2
Written by GEOFF JOHNS
Art and cover by DOUG MAHNKE and CHRISTIAN ALAMY
Variant cover by DAVID FINCH
1:200 B&W variant cover by DOUG MAHNKE
On sale OCTOBER 12 • 32 pg, FC, $2.99 US • RATED T
Renegade Green Lantern Sinestro sets a course for Korugar with one purpose: To free his homeworld from the scourge of... The Sinestro Corps?!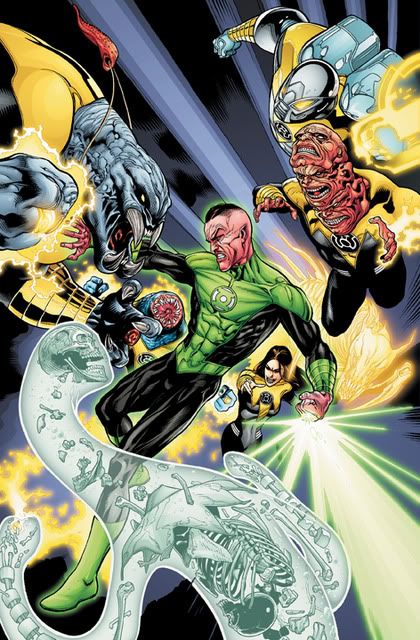 And, here is the solict and cover for the secong issue of the New Guardians book:
GREEN LANTERN: NEW GUARDIANS #2
Written by TONY BEDARD
Art by TYLER KIRKHAM, HARVEY TALIBAO and BATT
Cover by TYLER KIRKHAM and BATT
On sale OCTOBER 26 • 32 pg, FC, $2.99 US • RATED T
By their rings betrayed! Who – or what – has the might to tear power rings from each of the seven Lantern Corps, murdering their former bearers in the process? And why have the rings all chosen Kyle Rayner as their new master? As members of each Corps target Kyle for death, we learn more about the shocking fate of Ganthet!


I gotta say, I'm amped for Sinestro's return as a GL. Frankly, I'm thrilled by the absence of Hal "Personality of Cardboard" Jordan in general (nothing seems to have him except Justice League). Sinestro, though, is a favorite character of mine, and I'm really looking forward to seeing where they take him. I understand that he'll probably be back slinging a yellow ring before too long, but I'm going to enjoy this while I can.

As for the New Guardians, I don't think there are any major surprises there. Kyle needs a haircut. The Star Sapphire costume, if that is Carrol Ferris, has been changed. If it isn't Carrol, I don't know who it is.

I've been away from buying monthly issues for a couple of years now. This is enough to lure me back in. I have to make some decisions about what to pick up and what I'll just wait for the collected editions on, but GL is definitely a buy now.