Once again, I am torn between posting this topic under "Costuming" (this is a costume component) or "Art."
Ever since making my Silver Age Bizarro Green Lantern Ring from Sculpy, I wanted to try my hand at a
Black Lantern ring
.
First, I started with that double-package of Sculpy that has been sitting in my basement for two years --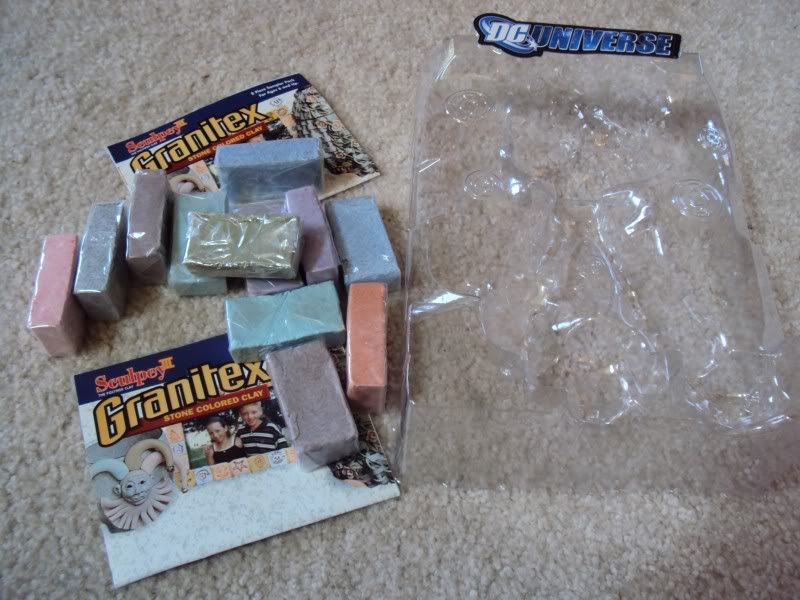 Then, I worked a blob of Sculpy into a size and shape roughly equivalent to the DC promo rings. I firmly pressed the face of a DC Black Lantern ring into my blob of Sculpy, to imprint the BL emblem and save me the headache of trying to sculpt the image --
After baking the blank (according to package directions), I carefully drilled a central hole in the middle of where the fingerhole would be --
I carefully and meticiculously shaved the central hole larger (and larger) as well as shaped the outer body of the ring into the shape I wanted. I also carved deliberate "cracks" into the ring body, which will not be noticeable until I paint the ring --
When the interior hole reached minimum finger size, I alternated with emery paper to smooth and continue widening the hole --
Finally, I painted the ring... first, a undercoat of white modeling (super-fine) primer, and then hand-painted black. The last step was to find appropriate human remains to model the ring...